COMMUNITY OF PARTNERS
Let's work together! Partners are individuals, companies, and organizations who align with our mission and want to advance education and learning among their networks. If your company or organization supports our mission and wants to advance education and learning in your network and communities, consider becoming a PsychArmor® Institute partner.
"Every employee at Operation Mend uses PsychArmor courses as part of their onboarding. This has been a critical part of their training. We also recommend the PsychArmor courses to the caregivers of our patients in both the Mental Health and Surgical units."
– Jo Sornborger, Psy.D.
Director, Psychological Health Programs, Operation Mend
Follow-up coaching for learners to reinforce the skills and knowledge provided in courses
Customized learning management tools for your organization or company
Unlimited access to PsychArmor's Clinical Support & Resource Center
Branding opportunities for your company or organization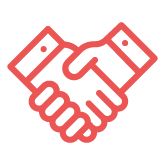 Consultation and support from our Partnership team to create and update your organization's training
Access to your company or organization's learning progress
For more information about partnering with PsychArmor, please contact our Learning Engagement & Partnership Manager, Matt Feldhaus at mfeldhaus@psycharmor.org.